Wings, Worms, and Wonder: A guide for creatively integrating gardening and outdoor learning into children's lives by Kelly Johnson.
My good friend who is an elementary school teacher recommended I buy a book.  She isn't one of those friends who recommends I buy things. When she said I would like the book, I should have known I would love the book!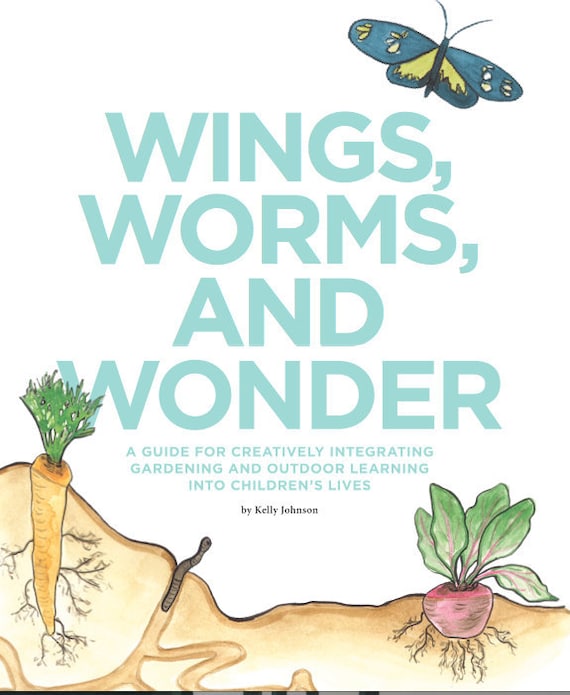 I was delighted to find Kelly Johnson was selling her Wings, Worms, and Wonder book on Etsy.  A full color large format 180 page book printed sustainably on recycled paper with vegetable based inks and cruelty free glues was available for purchase on my favorite online marketplace!  I placed my order, and in the meantime I checked out Kelly's blog and her adorable Etsy About Page.  I loved her well laid out blog, especially her upcoming events widget.
The new book arrived in eco-friendly packaging and I dove right in.  Kelly allows you to enjoy this guide, which isn't written in the traditional textbook format.  You journey through the seasons of your garden on pages rich with natural inspiration and knowledge.  Each section is color coded and full of illustrations.
Wings, Worms, and Wonder is full of beautiful artwork. Even my children naturally picked up the book and looked through its pages.  Kelly painted all the images herself.  I loved how on the Author Page she listed artist (and surfer) before gardener (and teacher). I think this holds true to the style of the book!  Yet it is fully equip with facts, info, and experiments!
Kelly offers us more of her background and experience here on her blog.
The Review
From the perspective of a mother who gardens with her children, I think this book is perfect for parents, with or without gardening experience, who want to garden with their children or grandchildren.  A "brown thumb" parent can use this guide to foster a relationship with children and nature.  We have a lot to learn from the beautiful world around us and this guide is a great place to start!
From the teacher perspective, I could not provide a good review (since I have never been one), so I am having a handful of elementary teachers in Florida take a look at this book.  This more detailed book review will be available on my own blog next week.
From the gardening perspective, both in my backyard and in the community, I think this guide would be a great resource for a children's outreach gardening program, or community gardeners wanting to involve children in the gardens.
Kelly covered all the main garden lessons and nature subjects, and surprised me with a few new ones.  I was happy to see I had done variations of her lessons with my own children over the years.
Wings, Worms, and Wonder is full of information and ideas.  I have a whole new set of activities planned for the fall and spring this year.  I love the follow-up thoughts for after the activities, and the book even contains patterns for crafting, worksheets, and recipes for cooking.  The Works Cited and Resource section of the book are fabulous for further education and gardening experiences too.
Since I am a true Floridian and avid gardener, I know Kelly has spent a lot of her life in our sunny state.  Florida's natural inspirations show up throughout the book, but all of the 36 kid tested lessons can be applied to many southern states, and adapted for others.  She discusses Florida's gardening struggles and even how you can have an oceanfront garden with a little help from a salt tolerant hedge.
The Interview
Kelly was nice enough to answer a few of my questions for this book review!
Q1. When did you first realize you wanted to write this book and why? Who was the first person you told?
I realized that I first wanted to write this book my 10th year of teaching. Ever since I had my own classroom I had been growing schoolyard gardens because I loved it and I really wanted to provide my students with some of the experiences I had as a child growing up gardening with my grandparents. I felt (and still feel) that a garden can help children become connected to the cycles of life that developmentally help them feel integrated in their place in the world as well as open their awareness to the feeling of grounding that comes from a direct connection to the food you are eating. The children absolutely loved planting, tending, harvesting, cooking from, and just exploring and being the garden. They were craving meaningful connections with the nature around them. Many of my colleagues and parents, though interested to observe from afar, were very intimidated to actually embark on creating gardening experiences with their own classes and families because of their perceived "brown" thumbs or simple lack of experience. Those garden experiences with the children and conversations with colleagues are the root of what inspired me to create an inspiring resource grown out of actual questions and concerns presented to me by adults wishing to embark on a holistic garden adventure. The first person I bounced the idea off of was my co-teacher and good friend Julie Williams. She is an amazing Montessori teacher of 20 years and I thought if Julie thinks this is a good idea, I should go for it!
Q2. The drawings and color selections throughout the book are beautiful. Where did you find inspirations for your artwork?
Thank you so much! They were a lot of fun to paint. It was extremely important to me that I create, and fill the book with, full color illustrations that would spark the adult reader's sense of wonder and inspire them to want to get outdoors and connect to nature artistically with the children. I wanted the book to be a seed source of encouragement, and that is why I created the illustrations based on the things in nature that inspire me, as well as making the physical construction environmentally responsible by using recycled paper, veggie inks, animal free glues, and printing in America with a woman owned and operated indie printer. A huge majority of the illustrations were painted from plants and veggies straight out of my yard and fridge, some were referenced from photos of my parents' yard, and some were from photos I had taken at various botanical gardens I have visited around the world. Of course some of the sillier ones (like the grasshopper with pliers for a head) were just imagined up, while some of the more editorial ones (like the cloud chart or card materials) I drew from actual materials I had created and used with the children. So I'd say inspiration came from the tropical and temperate natural environments that I love and feel connected to!
Q3. I love all the natural lesson plans featured in the book. If you had to pick a personal favorite what would it be and why?
That is a hard question! If I had to pick my all time favorite I would have to say the "Seed and Plant Anatomy" because I love drawing plants and I love botany. I feel so connected when I am drawing a plant from life. It makes me feel like I really know that plant and its personality, like how you feel when you have a great conversation with a good friend. Drawing plants brings a certain peace that stays with me the whole day. I know the children would surely say the worm lesson though. They can't get enough of those wiggly critters!
I thought I should answer the third question as well. I think it is a hard one too, but I would have chosen the butterfly wildlife calendar!
Kelly Johnson is selling her book on Etsy and locally in an indie bookstore in Neptune Beach, Florida.  The book was just released in August 2012.  Over the next year Kelly plans on presenting the book at some conferences, including the Association for Experiential Education, the American Montessori Society, and Learn Green: Florida's Green School's Conference.
I thank my friend for her book recommendation, and I think my children will too.
Happy Gardening,
Bee
2,631 total views, 4 views today